Brownsville Fence Washing Professionals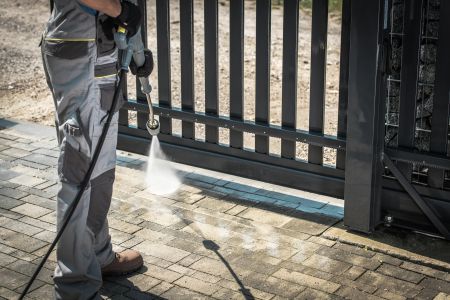 At Lone Star Exterior Pressure Wash And Soft Wash LLC, we believe that your fence should be the best it can be. That's why we offer a variety of fence washing services in Brownsville to keep your fence looking great. Whether you need a complete fence washing or just a spot-clean, our team of experts can help. We use only the best products and provide free estimates on all of our fence washing services, so you know what you'll be paying before any work begins. We are committed to excellence and strive to provide our customers with high-quality end results every time they use our services.
Our fence washing services are available for residential, commercial, and industrial properties in the Brownsville area. We take pride in our work and look forward to helping you spruce up your home's exterior with fence washing or our deck cleaning solutions! For more information, call today!
Wood & Vinyl Fence Cleaning
Our mission is to provide you with an affordable, reliable fence washing service that will give you peace of mind and make your home look better than ever. We focus on providing the best possible care for your wood & vinyl fences, no matter how big or small they are. When you hire us, you can rest easy knowing that:
Your fence will be cleaned by professionals who know what they're doing.
We use only the best eco-friendly products available on the market today so that we can better protect our environment while keeping your fence clean and beautiful.
You'll get high-quality results every time at an affordable price.
A clean fence gives the impression of a well-kept home, which is important, especially if you're trying to sell in the Brownsville area. Protect your investment by having your wood and vinyl fence professionally cleaned. Reach out for a free estimate.
Trust Our Experts For Quality Fence Washing
We provide pressure washing for Brownsville residents to keep property exteriors looking new. When you have a wood or vinyl fence, it's important that it's taken care of on a regular basis. When your fence gets dirty and dingy, it can affect the overall appearance of your home.
Fences are built for beauty and privacy, but they can also be designed for security purposes. In addition to keeping people out, fences can help keep animals in and also protect against intruders. Having a beautiful, well-maintained fence will help you feel more secure in your home and help protect your family from potential harm.
If you're ready to upgrade the appearance of your fence, our experts are here to help. Call us today to make an appointment.
CALL US TODAY FOR PRESSURE WASHING NEEDS IN BROWNSVILLE & SURROUNDING AREAS!