Sidewalk Cleaning Is A Must For Brownsville Homes & Businesses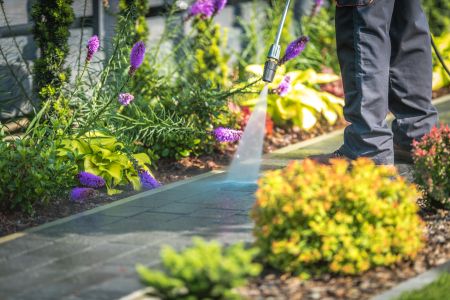 Is your business in the Brownsville area looking a little dirty? Our sidewalk cleaning solution is the right choice to make your business shine. You can count on us for our tested and dependable sidewalk cleaning process that will have your customers noticing the difference.
We know that when you're trying to keep your company running smoothly, every minute is precious. That's why we offer fast and efficient cleaning services that will help keep your customers coming back. Our team uses only the best products and equipment, so you can be sure that your sidewalk will be spotless when we leave and stay spotless for weeks after we've gone. You'll never have to worry about those unsightly stains again!
If you're looking for reliable, professional, fast, and friendly sidewalk cleaning services in Brownsville and the surrounding areas, look no further. We'll be more than happy to give you a free quote on our costs and will come out to discuss the project with you as soon as possible. Call now to schedule your appointment!
Walking Path Washing
When it comes to your home or business, you want an exterior cleaning service that's reliable, trustworthy, and affordable. You also want one that's going to do a thorough job every single time, and that's exactly what we provide! Essentially, you won't find a better cleaning service in Brownsville than ours. We're dedicated to exceeding your expectations with every single job we do, and we're committed to giving each and every customer the attention they deserve and the service they need. Our staff is top-notch, and our training is extensive. When you hire us for exterior cleaning services, you're hiring the best of the best.
We offer pressure washing for Brownsville residential and commercial properties, including:
Gutter Cleaning
Deck Cleaning
Fence Cleaning
Our services are 100% guaranteed to leave your property looking new! If you're interested in getting started, please give us a call today!
Trust A Team That Works Hard To Clean Your Property
Our experienced crew can take care of your property's concrete and asphalt surfaces with our sidewalk cleaning and pressure washing services. Our technicians are highly trained and certified in the latest techniques for cleaning your walkways and driveways, so you can rest easy knowing that your property will be in good hands. To save yourself the headaches that come with neglected concrete, we recommend giving us a call and asking about our versatile services. We want to help you improve your property's appearance by cleaning off any dirt, algae, or mildew that accumulates from normal weather exposure. Once we're done, you'll be left with surfaces that are noticeably cleaner and healthier looking.
CALL US TODAY FOR PRESSURE WASHING NEEDS IN BROWNSVILLE & SURROUNDING AREAS!