DIY Pressure Washing Vs. Professional Pressure Washing: 6 Benefits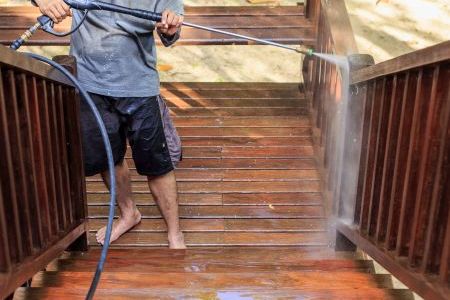 If you're looking for a great way to clean the outside of your home or property, look no further than pressure washing. Pressure washing is a powerful tool that provides homeowners with an easy and effective way to clean their siding, walkways, fences, and driveways while keeping their homes safe from buildup and contaminants. When your home is not looking its best, hiring a professional team to take care of it can be a smart choice. By opting for professional pressure washing, you can save yourself the time, money, and hassle of potentially causing harm to your property. A pressure washing company will not only ensure the job is done well, but also quickly and efficiently.
6 Reasons To Hire A Professional Pressure Washing Company
If you're in need of exterior home cleaning, but you're not sure whether you should do it yourself or hire a pro, here are six reasons why hiring a pressure washing team may benefit you.
Time Savings: One of the best benefits of hiring a pressure washing company is the time they can save you. When you hire a pro, they will do a thorough job in a short amount of time. By not having to do everything yourself, you can free up your schedule to spend more time enjoying your home.
Safety First: professionals always take safety into consideration when cleaning your home. They will use the appropriate tools and techniques to avoid causing any damage. In addition, they will also wear protection when working in high-traffic areas.
Quality Over Quantity: When cleaning your home on your own, you may be tempted to try to do too much at once. This can lead to poor results and increased chances of damaging your property. Professionals know how to clean a home effectively and efficiently, which means that less work is required overall.
Savings on Repairs and Maintenance: Hiring a pressure washing company means that you won't have to pay for repairs or maintenance that may come as a result of inadequate or incorrect cleaning. By taking care of these tasks yourself, you may find yourself in need of professional help in the future.
Peace of Mind: One of the most important benefits of hiring a pressure washing company is the peace of mind you'll have knowing that your home is being cleaned by professionals. This can give you confidence that the job will be done right and that your home is being taken care of. Don't let dirt, grime, and buildup take over your investment! Using an experienced exterior cleaning company for roof cleaning and stain removal will ensure you are putting your home in great hands.
Save Money: Hiring a pro doesn't have to be expensive! When choosing between DIY or hiring a pro, remember that DIY projects tend to cost more time and money upfront than hiring a professional. Hire the pros and let them provide the pressure washing or building washing services you need while treating your home as if it were their own.
Let The Team At Lone Star Exterior Pressure Wash And Soft Wash LLC Handle Your Pressure Washing Needs
When you're ready to have your exterior looking its best, contact a pressure washing company to handle the dirty work for you. Pressure washing technicians can help you to clean years of dirt and grime off of your property in a timely fashion and keep you feeling great about your investment. Get in touch with us for exterior cleaning services, including driveway washing, gutter cleaning, roof cleaning, and more.
CALL US TODAY FOR PRESSURE WASHING NEEDS IN BROWNSVILLE & SURROUNDING AREAS!